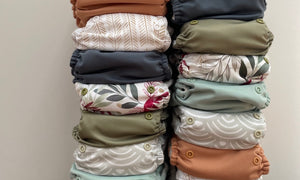 Better for your baby + planet
modern cloth nappies
Worry free, uncomplicated, effective nappies by Little Eco Baby. Made with recycled plastics created to make your life easier.
Shop 30% OFF
our brand values
We take our environmental responsibility seriously and are always striving to minimise our impact. We offset 100% of emissions and work from a solar powered premises.
Learn more
OVER 2 BILLION DISPOSABLES ARE THROWN AWAY EACH YEAR IN AUSTRALIA
Most sit in landfill for up to 500 years contributing huge amounts of carbon emissions. Join Little Eco Baby and be part of the solution.
We've saved
405,104 disposable nappies
We've proudly eliminated 405,104 nappies (and counting) from landfill sites across the country. If you're yet to make the switch, check out our range of products and services.
what our customers have to say
★★★★★

Stacey and Ben have been amazing, teaching us how to use cloth nappies and taking all the stress out of cleaning and worrying. We love helping the environment without having any extra washing pressure. Highly recommend this friendly and reliable service.

Patrice

Albion Park, NSW
★★★★★

We are really happy with the nappies, he hasn't had any skin irritations, they are soft and super easy. It's so convenient to have the nappies dropped off and picked up and also handy to get a reminder text the night before. Highly recommend, it feels so good to not have to use disposables.

Lauren

Kiama Downs, NSW
★★★★★

We started our Full Time Service when my so was one week old. It has made our lives so much easier by having nappies delivered and assembled! Stacey + Ben are fantastic to deal with and go out of their way to make sure you're happy. I cannot recommend LEB highly enough!

Katie

Calderwood, NSW
★★★★★

We have pretty much got our whole bin back after using LEB Nappy Service. The drop off and pick ups have been seamless. We love supporting a local business whilst helping the planet. I have referred many friends!

Tess

Corrimal, NSW
★★★★★

The team at little Eco Baby have been amazing. Answering all of my questions promptly and are super accommodating for a new Mum. The nappies are amazing and so easy to use. I would recommend to any mum to try!

Whitney

Berry, NSW